---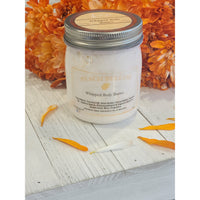 Apply our Peach Bellini body butter on your skin for a luxurious, delicious treat.
Our body butter is softly whipped, and will leave you smelling like sweet, peach pie fresh out of the oven.
Please note, our Whipped Body Butters consist of oils and rich butters, so this does apply quite oily. Make sure to rub in the skin well for optimal results.
Ingredients: Coconut Oil, Shea Butter, Cocoa Butter, Almond Oil, Tapioca Starch, Phenoxyethanol & Caprylyl Glycol & Sorbic Acid, Mica, Fragrance.