---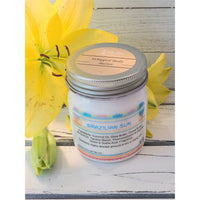 Our new Brazilian Sun Whipped Body Butter is inspired by the popular Brazilian Bum Bum Cream.
This intoxicating scent is mixed with notes of vanilla, sandalwood, caramel, and coconut.
Your skin will stay irresistibly smooth and smell amazing from morning until night.
It's good to keep in mind that our Whipped Body Butters consist of oils and rich butters, so this does apply quite oily so make sure to rub in the skin well for optimal results.
Ingredients: Coconut Oil, Shea Butter, Cocoa Butter, Almond Oil, Tapioca Starch, Phenoxyethanol & Caprylyl Glycol & Sorbic Acid, Fragrance.