---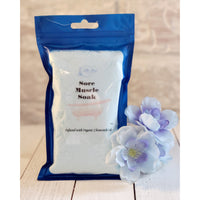 Our Sore Muscle Soak is specially made with Epsom salts, Magnesium Chloride, Organic Chamomile, and Essential Oils to help combat tired, achy muscles.
Use a couple large scoops of our Sore Muscle Soak in your warm tub and soak for at least 20 minutes for best results.
Ingredients: Baking Soda, Citric Acid, Epsom Salt, Magnesium Chloride, Organic Arnica Oil, Organic Chamomile Oil infused in Sunflower Oil, Skin Friendly Lake Colour, Essential Oils of Peppermint, Eucalyptus, Spearmint, Wintergreen, Rosemary, Ylang Ylang, Fragrance Oil.