---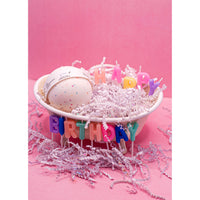 This Bath Bomb is definitely a sweet treat, and also contains a burst of colours on the inside!
Throw this in your tub to activate all the fun colours hidden inside, and watch your bath turn into a colourful pool of water.
Ingredients:  Sodium Bicarbonate, Citric Acid, Buttermilk, Kaolin Clay, Sodium Lauryl Sulfoacetate, Avocado Oil, Skin Friendly Lake Colours, Sugar Crystals, Fragrance Oil.